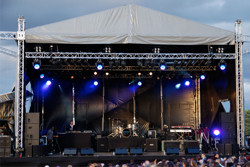 The IPS MPT Roof is a 12m x 10m Outdoor Roof stage. Built with an internal stage at 4' high, and two sets of treads, the MPT roof has the ability to support up to 4800kg of load from the roof. Ideal for larger events, the MPT is big enough for multiple bands to perform, and the larger format of the stage gives it a good site presence. Manufactured by Prolyte, the structure can be supplied with either solid or permeable walls.
The structure can also be supplied with PA wings and various other configuration options. Check out the PDF for more detailed specifications.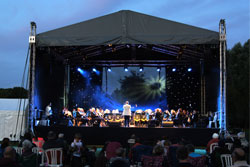 Typical per event costs for this structure are £6920.00 (plus VAT) including delivery, installation, onsite handover, then collection following the event. All IPS structures have full H&S documentation and structural calculations.
This structure is available with Truss PA wings to the sides for an additional £700.00 (plus VAT).
The MPT 12m x 10m structure is also available constructed on a Layher substructure to allow for uneven site consitions, and to raise the structure by approximately 1.5m for a typical event cost of £7800.00 (plus VAT)
When supplied on Layher, Truss PA wings with additional support platforms can be added for an additional £800.00 (plus VAT). Monitor World/ 3m wide by 8m deep Side Cowsheds can also be added for an additional £500.00 (plus VAT) per side. These are fitted behind the PA wings.
Please contact us for more information, or to discuss your event.