The IPS 10m Arc Roof is an 10m x 8m Outdoor Roof Stage. Built with an internal LiteDeck stage platform of 9.7m by 7.9m at 1.2m high, this structure is normally supplied with two sets of access treads, and handrails to the sides and rear of the platform. The attractive curved lines of this structure mean that it fits in at a huge amount of events, and is also quick to install and remove. The structure is supplied with solid PVC walls. This Prolyte structrure is the bigger brother of our ever popular Prolyte 8m x 6m and 6m x 4m Arc Roof systems, and is ideal for festivals and events that need a little more on- stage capacity.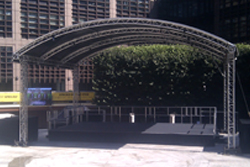 As with many of our structures, the Arc can also be supplied as pictured with a reduced leg height, and with a smaller internal platform depending on your event needs - or on a Layher substructure to increase the overall height and increased floor area. Check out the PDF below for more detailed specifications.
Typical per event costs for this structure are £4970.00 (plus VAT) including delivery, installation, onsite handover, then collection following the event. All IPS structures have full H&S documentation and structural calculations.
This structure is also available with Truss PA wings to the sides for a typical additional cost of £600.00 (plus VAT).
Please contact us for more information, or to discuss your event.