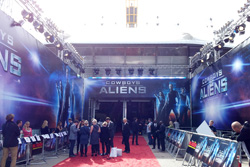 IPS has been involved with a host of weird and wonderful projects. From creating custom structures to hang banners for a film premiere, to creating a platform to stand a Batman mannequin on a balcony over the rooftops of London, to events on a sea bound luxury yacht, we love a challenge!
Whether you need a small stage for a presentation in an odd location, or a huge project overseas, we can help make your production work. Contact us with your event details, and we'll work with you to find a solution.
Please bear in mind that depending on the project details, we usually need at least 14 days notice to arrange structural calculations for bespoke structures.