IPS stock a range of Indoor and Outdoor LED Screen options. LED screens offer bright clear images and can be used where a projection option may not be effective, such as in a venue with a high ambient light level, or where presenters or performers need to be close to a screen and there are limited rigging options or no space for rear projection.
High Resolution Indoor Screens
LED screen can also bring a different look to an event –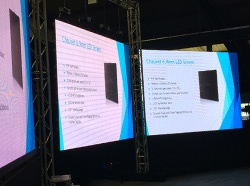 and can be used to make all kinds of screen sizes and configurations as well as conventional 4:3 and 16:9 options. Wide viewing angles, and viewing distances from around 3m mean LED screen options work in almost all venues. All IPS LED Screens are suitable for use indoors, and can be dimmed if required to suit the ambient light levels. The Prolights 2.9mm is the highest resolution screen currently in stock, but the Chauvet F4IP is also a popular choice, along with the Chauvet PVP S5 high resolution 5.2mm pitch screen. The Chauvet X6IP screen is also often used in larger venues, or where there may be a danger of moisture (such as during ice dancing performances!). Find out more about each of these products by using the navigation bar on the left.
High Resolution Outdoor Screens
Outdoor IP rated screen options are available, with an even higher brightness output. Screens can be suspended from stage structures or existing rigging locations, or IPS has a truss based ground support system that can be used to build a screen almost anywhere. Screens can be supplied in conventional sizes for films or video playback, or if you have custom content, we can work with you to build almost any shapes or size configuration. Bursting onto the scene for 2019 is the new Chauvet F4IP Screen. Offering a comparatively high resolution for an outdoor product, the 4.8mm pitch high brightness panels offer an alternative to the other IP rated option, the Chauvet PVP X6IP Outdoor 6.9mm pitch screen - which is also still a popular choice for all kinds of outdoor projects, from Film Premieres to Art Installations. Find out more about each of these products by using the navigation bar on the left.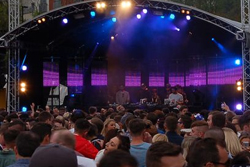 IPS also stocks various Scenic LED options, which are ideal for viewing from much greater distances, or to create dramatic looks for music events. Pixel and Video Mapping offer a close integration between lighting and video, and can be used together very effectively with some spectacular results. Some of the products that could be used include DMT PixelMesh 37.5mm pitch screen, or the Chauvet Epix Bars, with a 20mm pitch, or one of the most popular choices is the Martin VDO10 Sceptron, avaliable in two different lengths with a 10mm pixel pitch. Using pixel mapping options available on Avolites, MA Lighitng or Chamsys lighting desks lots of looks can also be created with lighting fixtures that offer full pixel control options – such as the Showtec Pixeltrack Pro, Prolights Lumipix or Lanta Auroura battens - plus many of our LED Moving head fixtures.