The movement of pedestrians at large scale events is always a major consideration, and sometimes bridging a particular access route or roadway is the most effective way forward. When large crowds of people are involved, it is also important that entrances and exits are clearly marked – especially for competitive events. IPS can supply a range of bridge and gantry structures that can be customised to your event requirements. The structures can be branded as required, and we can supply various different options. We can also supply mesh netting to cover any areas as required, and the colour can be selected from a range to choose the most appropriate.
Recent bridge projects for IPS have included supplying various bridge structures for Triathlon events at prestigious venues. Bridges have been constructed with a 6m span over a clear height of 3m and have been configured to have ramped access for event participant runners, and also stepped access for spectator pedestrian movement around the event sites. The structures have been constructed from Layher Allround and Event System components, and all have been designed to suit the individual requirements of each event. All structures are supported with full Health and Safety documentation, including structural calculations.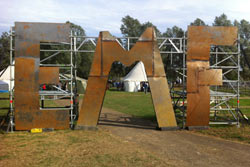 Gantry structures can be used as Start and Finish markers for events, or for Entrance and Exit markers, or in fact branded with any kind of graphical treatment to suit the event requirements. IPS have constructed gantries both inside and outside, and they can be supplied fully branded with your graphics, or you can supply us with the printed materials to fit to the structures – or if you have a welder and plasma cutter onsite, why not make your own custom event entrance like the one pictured from the guys at Electromagnetic Field (EMF). IPS also supply a lot of truss gantry structures to support branding, graphics and LED screens for Film Premieres, regularly seen in Leicester Square.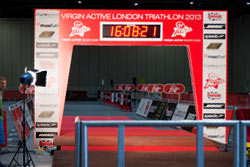 Examples of recent Gantry Projects include a Truss based Finish line with integrated timing clocks and ramp supplied for a triathlon event at London's ExCel, and an Astralite Truss based custom structure, supplied for a finish line at Blenheim Palace. We have also constructed Layher based Gantry structures, clad with printed banners or solid set panels, depending on the client requirements. Structures can be built inside or outside, and on a range of different surfaces. As with all our structures, gantries are all supplied with full H&S documentation and exterior gantries will have structural calculations detailing any ballast weights or ground anchoring that is required.
Due to the construction methods used, there are minimal onsite requirements for plant. Structures can be built in almost any location, even with access restrictions, and on many different types of ground surface. As with any custom build project, we need at least 14 days' notice to get the necessary structural details confirmed, although longer time frames are always welcome.
From Corporate Events and Exhibitions to Music Festivals and Sporting Events, we can help to supply your event requirements. IPS can also offer economies of scale by combining trucking, and in some cases crew if we supply other services onsite- such as Staging, Rigging, Lighting, Sound or Power. If you have an event that needs a bridge or gantry structure, or any other technical equipment hire needs, please contact us to discuss your requirements.