IPS can supply Viewing Platforms to suit your event requirements. If you need a raised area to improve sightlines, IPS can provide a levelled or tiered platform in almost any location. Also known as Accessible Viewing Platforms (AVP), Disabled Viewing Platforms or All User Platforms (AUP), these structures can improve access to and enjoyment of your event by all types of audience members.
Viewing platforms can be supplied with access steps or ramps, or can be configured to be accessible for everyone including wheelchair users.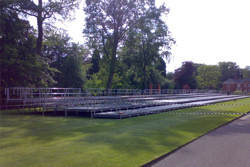 IPS can advise on the requirements of the Temporary Demountable Structures guidance document to ensure that the structure is DDA compliant, and will be able to accommodate your event attendees and their carers.
Viewing platforms can be designed for either standing or seated audiences, or a combination of both. From a simple platform with stepped access to a multiple tiered structure, IPS can construct a variety of shapes and sizes from our extensive stock range of modular staging. From 10 to 500 people, we can build a platform to suit your event and audience.
Platforms are securely constructed, and suitably braced depending on the site conditions and structure complexity. IPS offers a range of LiteDeck and Layher platform solutions with many step, handrail and ramp options depending on the structure and site requirements. Just let us know what size you need, or how many people you would like to accomodate and we can advise accordingly.
Please get in touch to discuss your requirements and pricing.