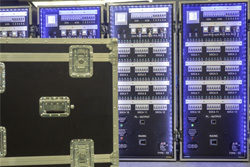 New 72 way Socapex Hot Power racks ready to hire with more features and extra protection
Specially made for IPS by Distro Design, the popular MD31 Mains Distribution units now have a mk2 version – and a whole host of new features. Power input is via a PowerLock connection, and the MD31 mk2 then offers 12 socapex outlets giving 72 ways of conveniently distributed hot power. There is also a 200a PowerLock outlet, 32a 3p and 63a 3p outlets ideal for motor power or ancillary items, plus 3 local 16a and 13a outlets.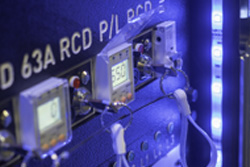 Scribble strips are fitted over all the soca breakers for easy labelling, and a front panel mounted dual USB outlet is ideal for phone charging. Both the front and rear panels of the unit can be lit with either Blue or White LED for easy identification of all connections in show conditions – and add a bit of glamour to the dimmer corner.
A comprehensive range of metering options are provided on the unit, with a four line display unit able to display supply and outlet voltage, current, frequency and power factor amongst other statistics.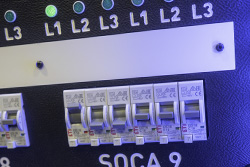 The units can also monitor overall power consumption – perfect if you want to keep an eye on your overall event energy consumption for carbon offsetting – or just to compare to other years.
The PowerLock outlet and both 32a 3p and 63a 3p outlets have RCD protection with variable earth leakage protection via ELRs with a bypass option. All the 72 ways of socapex outlet have RCBO protection, and high specification breakers offer full neutral disconnect and also show their fault status by either tripping halfway to indicate earth leakage faults or all the way to indicate over current – making the unit easy to use and faults easier to identify under pressure.
Located by the main isolator, there is also a status indicator that shows green only when there is a earth, neutral and three phases correctly connected to show the unit is safe to energise – and a red indicator if any of these is missing.
Overall, these are set to be really useful distribution units, and perfect for the festival season. The units are supplied in wheeled flight cases with the new IPS stealth black branding, so will fit in with any equipment set ups – and are supplied fully tested. The MD31 mk2 Hot Power Distros are in stock, and ready to hire now- check out the latest prices (and the rest of our distribution range) here.
IPS stocks a wide range of power distribution and cabling and adaptors from 13a single to 600a three phase, along with standard and DDA wheelchair compatible cable ramp systems – and much more. Equipment is available to dry hire, or can be supplied as part of a power solution, installed and tested by our qualified team of technicians. If you have any power requirements for events coming up, please get in touch for a quote or to discuss your project.