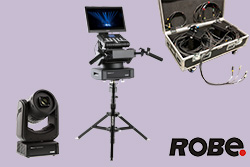 IPS have added the ROBE remote Followspot system to hire stock, along with some BMFL WashBeam fixtures to make the best use of the features
The ROBE Robospot System consists of a remote camera head (about the size of a LEDBeam 150) connected to a stand mounted base station, which has display enabling an operator aim using an onscreen crosshair to remotely control up to 32 connected ROBE fixtures. The base station also has controls enabling all the attributes of the fixture to be controlled, such as dimmer, colour, iris, zoom – two of which can be assigned to faders located next to the hand controls for smooth operation during follow spot work.
The RoboSpot system also has an Art-Net input so the fixtures can also be control via a conventional lighting desk – or some attributes can be controlled from the desk and others by the operator, for example enabling perfect synchronised black outs or colour changes. The controlled fixtures can also be completely taken over by the external control desk, which means that fixtures can function as part of the usual rig when they are not required for follow spot duties.
The ROBE RoboSpot from IPS is supplied as a complete kit. It is packaged as two cases, and comes with the stand, display screen, remote camera head and controller, plus a second case with control loom. This is an IPS creation, and is a 75m loom containing power, DMX, and a main and backup data line for the camera. At each end of the loom are break in/out boxes each containing a network switch for optimum signal transmission, and then a shorter 1.5m and 3m link set to get from controller to loom and loom to fixture. The fixture end break out box is fitted with clamp and safety bond ready to be rigged over the remote camera head. It is a very neat solution, and all packaged and ready to hire now – check out the latest prices here. For more detailed technical information about the RoboSpot system, see the ROBE website here.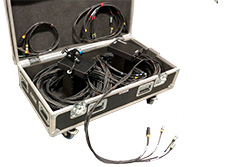 The RoboSpot system can be used with a range of ROBE fixtures, including the Pointe – although one of the best suited fixtures is the punchy ROBE BMFL WashBeam, which have also been added to the IPS hire stock to support the RoboSpot systems. The BMFL WashBeam features a 5 to 45 degree beam angle from a powerful 1700w discharge source. Motorised Framing Shutters and three interchangeable frosts make this a versatile beam and wash fixture. More options are added via full CMY colour mixing along with a fixed colour wheel, and six rotating gobos to keep beam shapes interesting. The BMFL WashBeam fixture is supplied from IPS cased individually and is ready to hire now – check out the latest prices here. For more detailed technical information about the BMFL WashBeam, see the ROBE website here.
These new ROBE additions sit alongside the large stocks of Pointe and LEDBeam 150 fixtures that are already popular choices in the IPS rental range. Equipment is also available from other leading manufactures, along with conventional Followspots, all kinds of generic fixtures, lots of control solutions from the likes of Avolites, Chamsys and MA Lighting. DMX and ArtNet distribution systems from Luminex are also ready to hire, along with a wide range of power distribution, dimming, cabling and adaptors – plus an extensive rigging selection. If you have an event coming up and would like a quotation, or to discuss a project please get in touch with our team.