Projects are already underway at IPS, and with more hire stock additions coming soon.
One of the IPS MPT Roof Structures has been in Inverness helping with the New Years Eve celebrations, and pre-rig work is underway for a busy January of events at the Marshall Arena, plus the warehouse team are already busy with Christmas hires being returned so 2019 is already off to a good start – with lots of other new trade hires, technical production and staging projects also progressing nicely.
The IPS Layher Projection Towers are proving popular – with a smart solid panelled finish, and a compact 2m x 2m footprint, these towers are available in a range of sizes from 3m to 7m high – perfect for outdoor projection projects. Available with lockable doors, the towers can be used in a variety of different locations – including on hard standing areas. Please get in touch if you would like more information.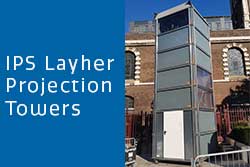 On the Trade Hire front, new additions for 2019 include an expansion of our LED Starcloth range and stock quantities. All controllable via DMX, these smart black cloths have either White/Blue LEDs (Classic range) or RGB LEDs (Chameleon range) are an always impressive way to transform a space. New sizes are available in the RGB Chameleon cloth range including 7m x 5m, 8m x 2m and 4m x 2m – along with more 10m x 4m panels. Check out the latest hire prices here.
There will be more details of items that have been sneaking into hire stock soon – as always if there is something that you need for a show or event that isn't listed on our website, please ask and we can usually offer an alternative or source the item from somewhere – or add it to our list of potential future stock additions!
Hopefully your 2019 is also off to a positive start, and we look forward to working with you over the next few months. If you have a project coming up and would like to discuss either equipment hire or production services, please get in touch. You may have seen our winter email update just before Christmas, if not then click here to sign up for our email newsletter (you can easily unsubscribe or change your preferences at any time). You can also keep up to date with IPS on Facebook, twitter, Pinterest and LinkedIn.