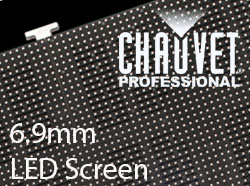 The Chauvet PVP X6IP is a 6.9mm pitch LED Screen panel, and is one of the outdoor screen options offered by IPS. The screen is ideal for outdoor or high ambient light level applications, and suitable for viewing distances from 6m and over. Screens can be constructed in almost any configuration, and can be either ground stacked or flown. Unless specific content has been created, or a Media Server is being used it is usually best to stick to 16:9 screen dimensions.
The Chauvet PVP X6IP panels are a high specification product. Features include:
6.9mm Pixel Pitch
Black Faced SMD LEDs
500mm x 500mm Panel size
PowerCon True1 & IP Rated Cat 5 Data connectors
5184 pixels per panel (72 x 72)
3120Hz Refresh Rate
4500 NITs Brightness
IP65 Rated Weatherproof Panel Design
The 6.9mm resolution is ideal for tricky environments, including outdoor music events, or shows that are taking place in high ambient light locations.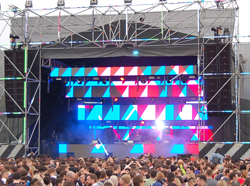 The truss ground support system can be constructed in a variety of locations, and requires either screw in ground anchors or surface ballast to secure into place. The structure has a full H&S pack, including structural calculations, and will be signed off after installation.
The panels can be supplied with a ground support rigging option, or can be flown using the Chauvet PVP Flybar system. Please get in touch to discuss your event LED Screen requirements - we look forward to hearing from you.