Join our team and become a part of some spectacular productions
IPS is a continually evolving company, and we are on the look out for people to join us on the journey. We have several full-time positions available, and all of them offer a chance to play a part in the successful delivery of a huge range of events, either directly by our team or produced by our amazing customers. Details of the current roles can be found here on our vacancies page.
There are opportunities within the IPS warehouse, service department and office teams, and all roles are based from our Milton Keynes base. IPS is an equal opportunities employer, and roles all have a range of benefits as well as a competitive salary package.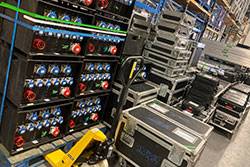 Whilst there are many other larger employers in and around Milton Keynes, but at IPS you really do become an integral part of a close working team and will be able to see the direct results of your work. There are training opportunities to enable skills to be developed over time, and with a diverse range of projects being undertaken, it is the chance to be part of a team delivering world class events on a regular basis.
If you think IPS may sound like a good fit for you, and would like some more information about any of the roles, please send us a brief email introducing yourself with the role you are interested in as the subject line to This email address is being protected from spambots. You need JavaScript enabled to view it. and we'll send your more details. No agencies please.
We usually post job details on the vacancies page on our website here, as well as on social media where you can find us on Linked In, Facebook, Instagram and Twitter.
We are also always keen to hear from freelancers, especially with Staging & Structures skills and have a freelancers details form to collect details – please check out our freelancers page and signup form if you'd like to be on our list.