More Ayrton Person S Profile and Astera AX1 tube kits arrive at IPS
Following consistent customer demand, we are pleased to announce that IPS now has twice the amount of Ayrton Perseo S Profile fixtures in hire stock, bringing the current total to 92 units. Stocks of the 8 Way Astera AX1 Tube kits have also been increased to 16 units, with a total of 128 tubes ready to hire.
The Ayrton Perseo S Profile is an IP65 rated moving head fixture powered by a 500watt white LED source with an impressive 7 to 58 degree zoom range. The Perseo S Profile can be used for indoor or outdoor applications and has all the features you'd expect to find in a top end fixture, including framing shutters, animation wheel, and multiple gobo wheels, along with CMY colour mixing plus a fixed colour wheel and a selection of frosts and prisms.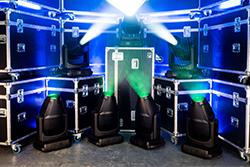 The Perseo weighs in at 38.8kg and is supplied by IPS in either single or twin flight cases. Power supply is via TRUE1 inlet, and the fixtures are each supplied with a 16a to TRUE1 power cable. Each fixture requires 800w in operation (around 3.5A) so 4 units per 16A power line works well. The fixtures are RDM compliant, and data in and out is via 5pin DMX connectors. There are various DMX modes onboard, and the IPS default mode will be the extended option with 61 channels required.
The fixtures also have dual RJ45 connectors, with options for Art-Net and SACN control. Check out the full specification on the Ayrton website here. For the latest hire prices, and a range of other IP rated lighting, check out the IPS trade hire prices here.
The Astera AX1 Tubes are a 1m long IP65 rated battery powered LED Tube fixture, with a 180-degree viewing angle and vast range of rigging options. Supplied by IPS in 8-way kits, these fixtures have proved popular with film and TV productions – and are also very versatile for events. The tubes each have 28watt RGBW LED sources, with 16 controllable pixel elements. The rigging options within the kits include hanging eyes, vertical floor stands, TV spigot adaptors and Tube Clips that can be used in almost any orientation – plus a charger.
Kits from IPS are supplied fully charged and ready to go - each fixture has a run time of up to 20 hours. The IPS kits also include an infra-red control for quick setup. Not included in the IPS kits, but available for hire is the optional ART-7 Asterabox interface which is also battery powered and enables DMX or app-based control of the AX1 tubes. The full specification can be found on the Astera website here with loads of details including reference DMX tables for colour correction from 1750K to 20,000K as well colour matching for a range of LEE and Rosco Gel colours. For the latest hire prices, and a range of other battery powered fixtures, check out the IPS trade hire prices here.
IPS has an increasingly wide range of IP rated fixtures within its lighting rental inventory, and consistent investment and stock increases mean we have lots of each fixture type stocked. Keep an eye on our latest products annoucements here, and if you have a project coming up, please get in touch to discuss your requirements.