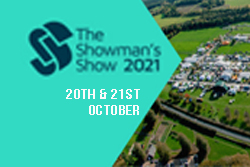 Come and see us on Wednesday 20th & Thursday 21st October on Stand 196
IPS are delighted to be exhibiting at the 2021 Showman's Show at Newbury Showground. On display will be our new 15m Trailer Stage, plus a chance to meet some of the team and discuss new and upcoming projects and find out more about our range of Staging & Structures services. There will also be some other products on display from our extensive hire stocks - or let us know if there is something that you'd particularly like to see at the show.
The Showman's Show combines a wide range of exhibitors and with indoor and outdoor space, there are all kinds of companies presenting all kinds of services – ideal to catch up with suppliers, meet colleagues and get some ideas for the new year. Register to visit the show by clicking here. Find out more about the show from the official show website here.
The main structure on the IPS stand will be our first Mobile Structure, the new 15m Trailer Stage, which arrived with us earlier this year. It is already proving popular with customers, and this is a great chance for you to see it for yourself. Find out more about the IPS 15m Trailer Stage on our website here.
We'd of course like to see you in person at the show, but if you can't make it and would like some more information, or to discuss an upcoming project, please get in touch with our project team.