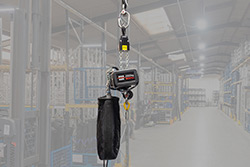 EXE Rise D8+ 2000kg Hoists have arrived in our hire stock and are ready to lift your production!
We are pleased to announce the arrival of EXE Rise D8+ 2000kg LVC 2F Hoists to our ever-growing motor stocks. These are our first units from supplier EXE, and the first double-reeved option for IPS. These units will see service with our new Eurotruss PR15 Roof Structure and will also enable us to offer a higher capacity single motor point for any other rigging projects. Check out our rigging trade hire options and prices here.
Supplied fitted with enough chain for a 33m lift height, the hoists are ready to hire in custom designed individual flight cases with various clever features. Twin chain compartments and separate hook and cable tail areas ensure everything is kept tidy in transport, and a removeable side panel enables the chain bag to be attached with the hoist still sitting in the case makes working with these beasts a lot more manageable. Reinforced panels within the case also improve protection in transit, important as the total weight of the motor, chain and case is 215kg – something also worth bearing in mind when planning transport capacity.
Configured with Low Voltage control, these units are ready to use with our range of Kinesys Digihoist LV Motor Controllers and cable looms. IPS also offers a range of 4.75t Shackles, 2000kg Steels, Softsteels and various other rigging accessories to suit any two-ton suspension requirements. As with all IPS rigging hire stock, these motors will be subject to regular LOLER inspections and can be supplied with full certification as required.
Full manufacturers details can be found here on the EXE website, or get in touch to discuss your upcoming project or trade hire requirements. IPS also has a range of other rigging options in stock and ready to hire, with hoist options including 250kg & 1000kg Manual chain hoists, Direct Control 250kg CM Prostars & 1000kg Prolyft Motors plus Low Voltage control 500kg and 1000kg CM Lodestars and now these 2000kg EXE Rise units.