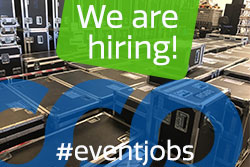 We are recruiting now for various full-time roles. Come and join our team!
After a tricky year, we are very excited to have lots of projects in the pipeline, and to support the increased workload, we are looking for some more top people to join our team. All the roles are full-time and will be based at Milton Keynes offices and warehouse.
If you are looking for a new role in the events industry, we are currently have the following roles available:
• Senior Service Technician
• Maintenance Electrician
• Hire Coordinator
• Project Manager
• Van Driver (or Class 2 would be ideal)
• Warehouse Technicians (various departments)
If you think any of these sound like a good fit for you, and like some more information about any of the roles, please send us a brief email introducing yourself with the role you are interested in as the subject line to This email address is being protected from spambots. You need JavaScript enabled to view it. and we'll send your more details. No agencies please.
We post job details on the vacancies page on our website here, as well as on social media. We are also always keen to hear from freelancers, especially with Staging & Structures skills and have a freelancers details form to collect details – please ask for more info if you'd like to be on our list.