Staging, rigging, lighting sound and power services supplied by IPS in the shadow of Wembley Stadium
IPS are delighted to have supported Culture Creative in delivering Rise - an event celebrating the start of Brent's year as London Borough of Culture 2020. The event was delivered with the iconic Wembley Stadium as a backdrop, and the IPS team provided eight different performance structures along with all the lighting, sound and associated rigging hardware plus the power generation and distribution infrastructure.
The event was well attended, and amongst the thousands of attendees, high profile guests included the Mayor of London, Sadiq Khan. There were plenty of performers too, nearly 300 people appeared on stage, with the Southpaw Dance company choreographers keeping everyone in time. Other Star performers included DJ General Levy. Find out more about the Brent 2020 event, and other things taking place throughout the year here (event photos from here too).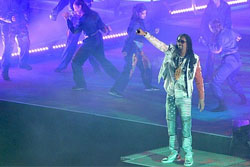 IPS supplied the three main performance platforms, which were constructed from Layher Event System components which made easy work of the large ramp that they were installed on. Five satellite stage structures were also supplied throughout the audience areas, with a gauze wrap to all sides. The IPS team also dressed a five-storey scaffolding structure (supplied by others) in a gauze material to provide a projection backdrop for the main stage area, along with supplying a series of lighting towers, Layher based projection structures, and a Layher FOH control position. The access restrictions of the build site meant lots of careful planning was required to get all the equipment on and off site within the tight schedule – and as if there wasn't enough to think about for Project Manager (and IPS MD) James Mason and onsite PM Ben Coxon, the crew were battered by Storm Brendan so all structures had to be suitable for use in the high wind speeds forecast for the build days.
A d&b V-Series Line array system was used for the event, with audio coverage modelled using Array Calc software to ensure that the audience could all hear the show. PA was supported on the stage backdrop structure, with delay hangs further into the audience for clear and even coverage. Active RCF speakers were used for local audio by the satellite stages, and all control was via Yamaha digital desks. Rider specified DJ equipment was provided for General Levy, including a Pioneer CDJ setup and radio mic system.
Lighting was designed and operated by Kate Bonney and included a range fixtures selected from the IPS inventory. As the majority of the lighting was located outside, IP rated fixtures were chosen which included Prolights Lumipix LED Battens, StudioCOB LED Pars and Panorama WBX Moving Head LED Wash fixtures, along with Ayton Perseo-S Moving Head LED Profiles, and Elation LED Blinders. For areas more protected from the elements, Source4 Par fixtures were used, along with Coda floods. Dimming was all via Avolites Art Racks, and control was via an ETC Gio @5 lighting desk.
Onsite power was split into production requirements and site requirements to most effectively manage fuel use, with a smaller 60KVA generator set running backstage, security management requirements. Production power was supplied via a synced pair of 150KVA generators, and all and all signed off to BS-7909 standards.
If you have a production coming up that needs staging, rigging, lighting, sound or power services, please get in touch to see how we can help. Alternatively, if there is an element that you need us to work on rather than a full solution, we are still happy to help, plus we have an extensive trade hire inventory if you just need the equipment.