IPS are the Venue Services Provider at the freshest Arena space in Milton Keynes
Formally Arena MK, the Marshall Arena is a smart event space built into Stadium MK which has a lot to offer. Legendary local company Marshall Amplification are lending their name to the space, and you may well have seen the full Marshall Arena branding rolling out over the past few months.
IPS have been working with the Marshall Arena venue from the first time the doors opened in 2014, and have since supplied technical infrastructure to a wide variety of events from conferences and exhibitions to parties and music events.
Onsite services include Forklift and Access equipment, and as Venue Services Provider, IPS provide power drops and rigging points to the venue structure, and can also supply any Staging, Rigging, Lighting, Video, Sound and Power Requirements. Whether you need an LED screen to show off your presentation, a compressed air supply to run your robotics or perhaps a 10m high presentation stand to display your 100 most recent trophies above your guests, IPS can work out a solution.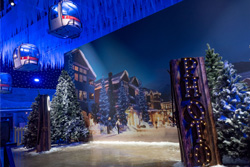 All kinds of events take place in the Marshall Arena. Over the last few months there have been a mixture of conference and training events, exhibitions, sports and trade shows, plus an increasing number of live music events. After the spectacular 2018 FestiveL turned the Marshall Arena into a winter wonderland, tickets are now on sale for the 2019 FestiveL of New York – check out the details here. Plus there are a whole host more events over the summer, including UB40 in the Arena, and lots of events coming up involving the Stadium MK, with Rod Stewart, Rammstein and Take That already scheduled to play in 2019 – plus they fit some football in every now and again. Check out event details here.
If you want to find out some more details about the event spaces within the venue, there are some details on the IPS website here, or head over to the official website here. If you have already worked in the Marshall Arena, or have attended an event you'll know the details – but if you have a project coming up that needs an event space, get in touch with the Arena team who can give you all the venue details, and IPS can provide as much or as little production support as required, get in touch with IPS here to discuss your requirements.
However you look at it, events at the Marshall Arena are definitely going to rock!