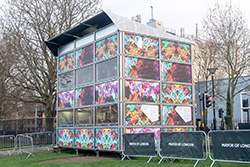 IPS supplied Control and Projection Support structures for the dramatic Walthamstow event marking the 2019 Borough of Culture award.
Working for projection mapping specialists QED Productions, IPS supplied a series of Truss and Layher based structures to support projection and audio equipment. A spectacular video centrepiece for the event was mapped over the façade of Waltham Forest Town Hall. The dramatic projection show ran throughout the evenings over the three nights of the Welcome to the Forest event, and the show attracted over 70,000 visitors and lots of media coverage, with the council saying it was "the biggest party that Waltham Forest has ever seen".
IPS supplied four Layher structures which housed all the projection and control equipment. The structures were built at the top of a grassy slope in front of the town hall, and all fully branded to fit in with the look of the event. Clad with Layher Protect panels, the solid sided structures complete with lockable doors provided secure weatherproof locations for both equipment and crew. Two structures had a 6m by 4m footprint, with an integral staircase for access to the upper level. QED's projectors were installed onto an adjustable shelf and shone through clear window panels at the specified 4m lens height. In the base of one of the structures additional window panels were installed to form a control position. The QED team then added their projection mapping equipment – plus heaters and a tea and coffee station, making this an ideal place to be during the cold evening events! IPS also supplied a further two towers with a compact 2m by 2m footprint and 4m projection height to enable full projection coverage of the building to be achieved.
These two structure sizes form part of the IPS range of standard Layher production structures which can be quickly deployed at all kinds of events. IPS MD James Mason was really pleased with the outcome of the project, saying "the Protect clad Layher towers look great, and the weatherproof finish make them a very practical solution for a variety of production requirements" also noting that "we have been gradually refining these structures over the past year, and the quality of the structure, and quick deployment have made these an increasingly popular choice for our customers".
At the front of the site, IPS supplied a pair of truss based Prolyte RT-52SV Rigging Towers in a 10m high configuration to support the d&b Line Array used to provide the soundtrack for the events. IPS also rigged a Prolyte Truss based goalpost cable support structure over the entrance to the venue to provide neat cable routes to all areas. IPS has a range of standard Layher structures, a comprehensive range of Outdoor Roof Structures, a vast range of staging, and can also design custom solutions to suit your event requirements - please get in touch to discuss any projects you have coming up that need Staging or Structure support.