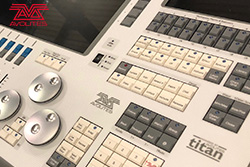 Avolites Arena Lighting Desk and SGM G-Profile Turbo fixtures join IPS hire stock
In response to customer demand, IPS have added another two hire lines to the lighting department, in the form of the Avolites Arena and SGM G-Profile Turbo. These high specification items are ready to hire now – check out the latest prices for control equipment here, and here for intelligent fixtures.
The Avolites Arena sits neatly alongside the existing IPS stocks of the Avolites Quartz and Tiger Touch II desks, all running Titan control software. The Arena features 40 playback faders, along with three rotary encoders and two separate touch screens for control, giving you even more physical controls to easily get hold of during a show. The desk features a built in UPS, and lots of local input and output connectors, including eight 5pin DMX outlets, a four way network switch and an OpticalCON Duo connector. There are also various MIDI and SMPTE options for integrating the desk into the increasingly complex control environments regularly seen onsite. All supplied in a neat drag along case on wheels to save your back – what is not to like! There are more detailed specifications on the Avolites website here and also links to download the latest manuals and guides.
The SGM G-Profile Turbo is the latest IP rated intelligent fixture to join the IPS hire range, and a serious bit of kit. Powered by an LED Light source, the fixture kicks out just over 15,000 Lumens of light within the 8 to 43 degree zoom range. Offering a beam with no hotspots and a variable colour temperature between 2000k and 10,000k the G-Profile can fit neatly with a wide range of other fixtures. One of the features that sets the G-Profile apart from all other IP Profile fixtures is that it offers full beam shaping with four individually controllable blades with rotation. As you'd expect from SGM, there is also a rotating gobo wheel, effects wheel, 4 Facet prism and linear frost along with an Iris feature. All this is contained within a fixture that includes an integrated dehumidifier to ensure that it can keep running even in consistently damp or wet environments. Control is either via RDM enabled DMX or Lumen radio wireless. Cased in singles, these 52kg units are quite large, but certainly pack a punch. There are more detailed specifications on the SGM website here, and also links to download the latest manuals, drawings and photometric data.
IPS has a constantly updated hire stock, check out the details of our hire inventory and list prices here, or keep an eye here for our latest arrivals. Alongside Lighting equipment, IPS also stock an extensive range of Staging, Rigging, Sound, Video & Power equipment. If there is anything you need for your next project, please get in touch for a quote, or call us to discuss your requirements with our team. You can also keep in touch via Facebook, twitter or linked in – or sign up here for our very occasional email newsletter.