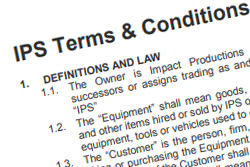 The IPS Terms & Conditions are available to view and download from the website
It has been noted that our quotations are growing in length due to the IPS Terms & Conditions, and there have been some formatting glitches from our hire software, so we have decided that instead than including them in full every time, we will provide a link to where they can be viewed and downloaded from our website. That page is here.
All equipment and services provided by IPS is subject to our Terms & Conditions, and they are updated occasionally so it is important to keep an eye out for things that may affect your project. When customers hire from IPS for the first time, the IPS New Customer Form does include the standard Terms & Conditions. However, we are delighted that the majority of our regular customers have been working with us for many years, so may not see that latest version. If at any point you wish to see the latest version of the Terms & Conditions, please either check on our website, or let your project manager know and we'll send the document over.
This may also be a good time to mention that we do have an occasional email newsletter which provides updated company information along with product updates, and news of recent projects. These are at most every few months so won't fill up your inbox – and you can subscribe or unsubscribe at any time. The link to signup is here. Please note that if you didn't reply to the GDPR message earlier this year we will have removed you from our list and you will have to resubscribe.