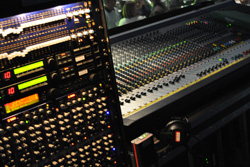 IPS works in all sorts of venues on a regular basis, so we have a lot of experience of how to make things look and sound their best in many different environments. We also have a working knowledge of what products perform the best in certain applications, and can help to specify industry standard equipment that will be as future proof as possible and rider friendly. Most importantly, we can also make sure that your installation works for the end users; Rather than a one size fits all approach, we will ensure that we source the correct equipment for your application.
IPS has also been involved with multiple phase projects, where we'll install the infrastructure in one financial year, such as installing dimmers and lighting bars, and then adding lighting fixtures as more money is available. Typically, we specify equipment that we would use in our rental inventory. This means that not only have we extensively road tested the items, and can usually use our buying power to negotiate favourable prices, if you wish to supplement your equipment for a larger event, we will have matching rental stock available.
Long term hire options are avaliable for venues, enabling you to keep up with the latest technology without the capital investment costs. IPS can supply a basic system that is supplemented for larger events, or a full production solution. IPS also offer maintenance arrangements where we will service, repair and PAT test your entire technical equipment stock - ideal for longer term installations to keep your investment running smoothly.