The Avolites Tiger Touch II is a very popular lighting desk, and one of our most regularly requested. With 10 playback faders, each with a page feature, plus three rotary encoders and a built in touchscreen, the desk is great for getting to grips quickly with a lighting rig.
The advanced Titan operating system also means that very complex shows can be created, and the desk features Four physical DMX outputs to the rear, plus an ethernet option to expand using Art-Net, sACN or Titan Net protocols.
For further details, check out the manufacturers website here: http://www.avolites.com/products/lighting/tiger-touch-ii
For more details on the Titan operating system that is now used across all Avolites consoles, have a look here.
Download the quick start manual from here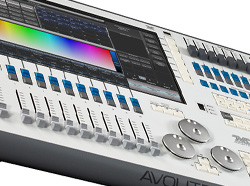 IPS offers competitive pricing on all rental products, and discounted hire rates are avaliable for longer hires - please contact us for further details.