The Avolites Art2000 PowerCube Dimmer is a compact dimmer & hot power solution, with built in power distribution. Featuring up to 18 dimmable outputs and 12 hot power outputs, the PowerCube can be used in various different different ways depending on the requirements. The versions stocked by IPS are all the Socapex version, and feature 8 socapex outputs to the rear of the unit, a two way DMX buffer, plus an Art-Net input, and also two auxilary 16a 1p outlets. The power inlet is via a 63a 3p cee form, which is on a short tail.
The PowerCube can be used in different combinations. There are 12 x 10a Dimmer channels which each have 2 pairs of socapex outputs. There are then 6 x 10a Combination channels that can either be used as dimmer or hot power channels, which have 2 socapex outlets. Finally there are 6 x 16a hot power channels, which also have 2 socapex outlets. The two 16a auxilary outputs are individually protected, with each having a 16a MCB. Inlet protection is via a 63a 3p Isolator, and RCD protection is via overall 30mA RCD's with one for each phase.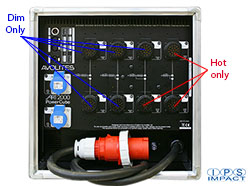 Power Connector - 63a CEE Form
Data Connector - 5pin XLR
Output Connector - Socapex
Circuit Protection - MCB per output plus RCD per phase
Output Patch - Via software only
Unit Weight - 43kg
For further details, check out the manufacturers website here: http://www.avolites.com/products/dimming/power-cube
Download the quick start manual from here
Looking for soca cables and 15a / 16a tails? check out power cabling dry hire items here
IPS offers competitive pricing on all rental products, and discounted hire rates are avaliable for longer hires - please contact us for further details.